Accommodation

Kyoto University Int'l Student Dormitories
Kyoto iUP students can live in the university's dormitory for the first twelve months of the program (it is possible to extend your stay for another 12 months). Staying the dorm with other international students of Kyoto University enables you to exchange information and/or help each other, and it's safe and suitable for student life.
Kyoto University Hyakumanben Int'l House
The house is located west side of Hyakumanben Intersection, 400m from Yoshida main campus.

Lounge, Cooking room, Laundry rooms and Shower rooms in the each floor.
All rooms are air-conditioned, and furnished with internet access (Wi-Fi), a refrigerator, bed and bedding, desk, and chair.
See our BLOG to know more about Hyakumanben Int'l House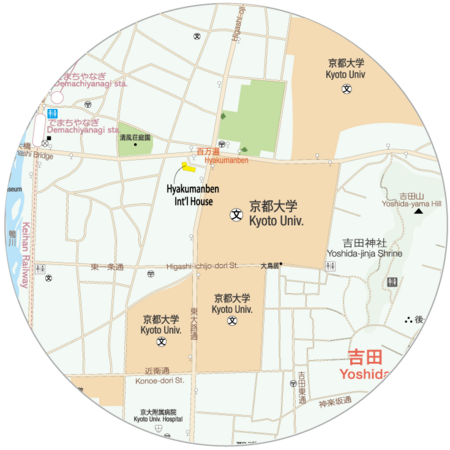 Yoshida main campus: 5min walk
Yoshida south campus: 10min walk
Convenience store: 1min walk
Post office/Bank: 3min walk
Grocery store: 10min walk
Kamogawa river: 10min walk
Shimogamo shrine: 15min walk
Philosopher's walk: 15~25min walk
Nanzenji temple: 15min by bicycle
Shijo-Kawaramachi: 15min by bicycle
Monthly Rent: JPY33,500
Other necessary fees:
Electricity: residents must pay for the amount of electricity that they use, which is calculated according to the individual meter reading for each unit.
Bedding rental fees: 1,500 yen per month (tax-excluded)
Internet access fees: 1,500 yen per month (tax-excluded)
For futher details, please visit KUISO website
Dining room

Common kitchen

Dining room
Bulletin board by the office

Hallway

Private room
Laundry room

Shower room

Mailbox at entrance hall