Students' Voice
Interview with international students No.2:
Why Kyoto University? How is your Kyoto life?
Kyoto iUP admissions office had a chance to interview three international students to ask about their student life at Kyoto University.
Why did you choose Japan as your destination to study abroad?
Harini: I have been feeling familiar with Japan since my childhood when I was watching Japanese TV drama "Oshin". After studying business in India and working as an accountant in Sri Lanka, I got interested in the concept of social entrepreneurship. As I found Japan has a lot of social enterprises, I decided to come here.
Anna: I was interested in the history of Meiji period and modern Japan, the economic boom and how Japan became one of the most developed countries in decades. Now I am more interested in international law and foreign affairs.
Floris: What brought me to Japan is modern Japanese literature. They are traditional and different from what I was used to in Europe, but some of them such as Haruki Murakami's works made me feel Japanese people are not all that different. Then I started to learn Japanese language to better understand Japanese literature.
What is a good point of Kyoto University?
Anna: In Kyoto University, there's a freedom. You can choose all subjects you want to learn and you can participate in a variety of programs including volunteer activities and competitions.
Harini: At the Graduate School of Management, famous people like Vice President of the World Bank Group and so many entrepreneurs come here to give speeches and tips on how to be entrepreneurs.
Floris: Kyoto is a perfect city for students. You can go anywhere by bicycles while you must take trains in other cities like Tokyo.
Are you participating in any extracurricular activities?
Floris: All of us are members of Kyoto University International Students' Community where various events for international students are organized. Besides, I am working for a Dutch company and show Dutch people around Kyoto as a tour guide.
Anna: I started karate when I was little, which was my first encounter with Japan. Now I really enjoy doing karate here in Japan.
Harini: I belong to Kyoto University English Speaking Society. I participated in two speech contests where both Japanese and international students give very good speeches on interesting topics. Outside the university, I join a hiking group for foreign people and go hiking in Kyoto every month.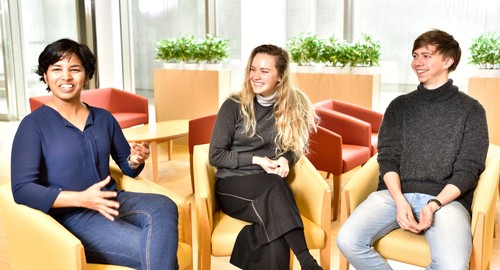 Future Kyoto iUP students may feel anxious about studying abroad because of the difference of language and culture. Do you have any advice to them?
Anna: It's always good to challenge. Living in a different country gives you a lot of experiences and makes you independent.
Floris: All languages are difficult in the beginning, but don't worry! Most people understand English. We can communicate smoothly both inside and outside the university.
Harini: Kyoto University has a good environment to learn Japanese language. In the Student Lounge KIZUNA, you can learn Japanese from Japanese students in exchange for teaching them English. Your supervisors and tutors for international students also provide adequate support.
Do you have a chance to have your home countries' foods in Japan?
Floris: Yes, there is a Dutch restaurant in Osaka. But I don't miss my country's foods so much because I like Japanese foods.
Anna: I rarely have an opportunity to have Ukrainian foods though there are shops and one restaurant in Kyoto. But I don't mind as I enjoy Japanese foods.
Harini: I sometimes miss Sri Lankan foods but I can easily buy them online from stores in Tokyo.
Where is your favorite place in Kyoto and/or Japan?
Floris: Nanzenji temple and Tetsugaku no michi (The Philosopher's path) are my favorites.
Harini: I like the city of Kyoto as a whole. When I came to Kyoto for the first time in April, I was awed by the beauty of cherry blossoms. Other than Kyoto, I recommend Amakusa in Kyushu where you can enjoy beautiful sceneries.
Anna: I enjoy travelling around Japan during long holidays. Okinawa was very beautiful and I really want to go there again.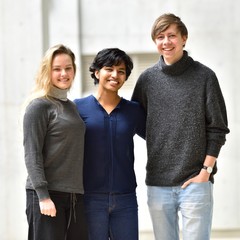 Interview with international students No.1:
Why Kyoto University? How is your Kyoto life?
Kyoto iUP admissions office had a chance to interview three students from ASEAN countries to ask about their student life at Kyoto University.
Felicia Angkanata
Indonesia
Faculty of Agriculture

Pattana Soranasataporn
Thailand
Faculty of Engineering

Isabella Martinez
Philippine
Faculty of Engineering
What brought you to Japan?
Felicia: When I was a child, I liked Japanese Animations which were broadcasted in Indonesian language, and I became interested in Japan. Also I wanted to study science, and Japan is one of the leading countries in science and technology. So I decided to go to Japan for my higher education.
Pattana: When I was a high school student, I started to think that studying abroad and learning a new language would be a better choice for me to get a lot of new experiences. So I applied for various scholarships, then I got the Japanese Government Scholarship. In Addition, Japan is near to Thailand, and especially Kyoto University is famous for Engineering. That's why I came here.
Isabella: My parents lived in Japan before I was born. So, Japan became second home for them. I have visited Japan many times with my parents. Influenced by my mother, who studied mechanical engineering at a Japanese university, I began to be interested in studying in Japan.
Did you have chances to visit Japan before coming to Kyoto university?
Felicia: I'd been to Tokyo, Osaka and Kobe for sightseeing before coming to Kyoto university.
Pattana: I'd been to Japan twice. I visited Tokyo, Osaka, Kobe, Kyoto and Nara for sightseeing when I was in the middle school and high school.
Isabella: First time I came here was when I was 4 years old. And we came to Japan every year after 2010. We usually stayed in Tokyo.
Have you ever gotten surprised or confused by cultural differences between Japan and your home country?
Pattana: What surprises me is that the Japanese are really honest. I have lost my purse two or three times in Japan, but every time someone picked it up and called me. It's also surprising that everyone leaves their wallets to keep the table at a café like Starbucks. All these things will never happen in Thailand.
Felicia: I think the Japanese are very polite. People say "Sumimasen" (Japanese expression meaning "Excuse me" or "I'm sorry") many times in various situations. I couldn't understand why they said "Sumimasen", and it made me sometimes confused a little bit, but I have got used to it.
Isabella: Most of cultural differences I faced are positive ones. For example, I can walk on the street at night safely, but in Philippine, it's very dangerous. I think Kyoto is safer than Tokyo.

Why did you choose Kyoto university?
Pattana: Kyoto University is one of the best universities in Japan as well as in the world. Especially it is famous for the Chemical Engineering. In addition to that, Kyoto is a really nice city. It's not too urban like Tokyo and has a lot of nature. You can reach anywhere by bicycle. I think Kyoto University has a very good environment to study.
Isabella: I wanted to study civil engineering, and Kyoto University was the only university in Japan which offers the Civil Engineering course taught in English. Also, Kyoto University is one of the top universities in the field of Civil Engineering. That's why I wanted to come here.
Felicia: As Kyoto university is one of the most famous universities in Japan, my teachers recommended me to go to Kyoto University. And also I'm quite interested in its characteristic of "Academic Freedom". I guess "Academic Freedom" encourages people to think freely by themselves, which improves their imagination and technique skills.
What is your plan after graduating the university?
Felicia and Pattana: After the undergraduate program, I will get the master's degree, and then, I will try to apply for Japanese companies. In the future I will go back to my home country and make use of my skill and knowledge for my home country.
Isabella: I have the same plan. I wanted to study civil engineering because most constructions in Philippines like Philippine Highway are sponsored by Japanese government. So I thought Japanese education will help me develop my country when I go back there. In this August I am having internships in a Japanese company. I hope this opportunity will lead me to get a job.
What are the tips for learning Japanese language?
Pattana : I think Japanese is well grammatically structured language. You should put yourself in Japanese speaking environment to have a lot of chances to speak.
Felicia : I read Japanese books. Also it's important to actively talk with classmates and teachers. Then, they will point out your mistakes. That improves your speaking skills.
Kyoto iUP is the newly established undergraduate international program which does not require Japanese proficiency at the time of enrollment. Do you think you might have applied to iUP if this program had been offered at the time of your application?
Isabella: I now belong to the international civil engineering program, in which all classes are taught in English. I chose that program because I wanted to study in English. But I think it's also important to study Japanese in order to work for Japanese companies. So I think Kyoto iUP is a nice option.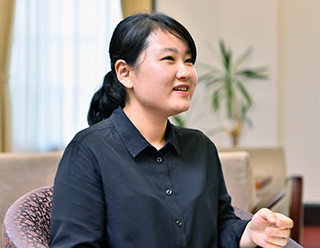 Felicia : As I entered Kyoto University via the general entrance examination for international students, there were requirements of Japanese language skill. So I entered the preparatory school in Japan, which I found by myself, and studied Japanese and other basic subjects there to prepare for the entrance examination. But Kyoto iUP gives you the opportunity to learn Japanese from zero-level after starting the program. I think it's the most beneficial feature of Kyoto iUP.
How do you enjoy your private life in Kyoto?
Felicia: I visited a lot of temples and other historical spots with my friends. There are a lot of ancient historical sites not only in Kyoto but also in nearby prefectures in Kansai area, so you can easily reach there.
Pattana : I love Kyoto because I can enjoy both of its urban part and rural part. It has rivers and mountains, and at the same time it has urban areas like Kawaramachi (shopping-district of Kyoto). It's a distinctive characteristic of Kyoto.
Isabella: I enjoy traveling to all over Japan. I can travel alone safely everywhere in Japan.